12.7.-11.10.2019
Opening: 11.7., 19 Uhr. Laudatio: Simone A. Dietz, Kunsthistorikerin
Bund freischaffender Bildhauer Baden-Württemberg
On show:
Rainer Anwander, Jörg Bollin, Claudia Dietz, Thomas Dittus, Jan Douma, Heike Endemann, Werner Ewers, Jörg Failmezger, Birgit Feil, Christel Friedmann, Susanna Giese, Ulli Gsell, Elmar Interschick, Barbara Jäger, EBBA Kaynak, Dieter Kränzen, Beate Leinmüller, Birgit Rehfeldt, OMI Riesterer, Ulrich Sälzle, Michael Schützenberger, Gerhard Tagwerker, Frank Teufel, Bernd Zimmer, Roswitha Zimmerle
Locations: Landratsamt Ludwigsburg, Kreishaus und Atrium, Hindenburgstraße 40 und 30, 71638 Ludwigsburg, Germany
Open: Mon-Wed 8.30-16.00, Thur 8.30-18.00, Fri 8.30-12.00
---
Participants of sculpture symposia from several years.
Opening: July 12, 6.30 pm at the City Hall of Marbach
Sculptors:
Sibylle Burrer, Claudia Dietz, Heike Endemann, Michaela Fischer, Uli Gsell, Barbara Jäger, Dieter Kränzlein, Gregor Oehmann, Birgit Rehfeldt, OMI Riesterer, Frank Teufel, Christoph Traub, Roswitha Zimmerle
(Foto: Wikimedia commons)
---
Opening
Kunst – und Gewerbeverein Regensburg (map)
THE VIEW presents a selection of its collection and further works of its artist.
Participating artists (in alphabetical order):
Becker Sabine, Konstanz/DE, Paintings
Besuden Eckhard, Allensbach/DE, Paintings
Bircheneder Stefan, Regensburg/DE, Paintings
Dörflinger Johannes, Konstanz/DE, Sculptures/Paintings
Eichenberger Markus, Aarau/CH, Videos
Endemann Heike, Radolfzell/DE, Sculptures
Kochs Christofer, Augsburg/DE, Sculptures/Paintings
Kowanz Brigitte, Wien/A, Light installations
Kuball Mischa, Düsseldorf/DE, Light installations
Lauinger Martina, Münsingen/CH, Sculptures
Lauterjung Michael, Cammin/DE, Paintings
Maass Dierk, Zürich/CH, Fotografie
Mazenauer Gabriel, Wigoltingen/CH, Sculptures
Peschke Marc, Wertheim/DE, Photography
Petrovsky Boris, Konstanz/DE, Light installations
Schlotter Werner, Konstanz/DE, Sculptures/Paintings
Schülke Björn, Köln/DE, Media Art/Sculptures
Späth Waltraud, Friedrichshafen/DE, Sculptures
---
17.05.2019: 7 pm: Opening of the Urbach Sculpture Path
Discussion: Martina Fehrlen, Christoph Traub, Johannes Fuchs
Sculpture walk with Beatrice Büchsel, Art Historian
Participating Sculptors
Hüseyin Altin, Urbach
Heike Endemann, Radolfzell
Thomas Putze, Stuttgart
Reinhard Scherer, Alfdorf
Martin Schöneich, Vorderweidenthal
Michael Schützenberger, Berglen
Rüdiger Seidt, Forbach
Christoph Traub, Schorndorf
The participants show small works at the Museum at Widumhof, Urbach, every Sunday, 11 am – 5 pm, until October.
---
Until April 2020
Sculpture Park, Schlossstrasse. 51061 Cologne, Germany
---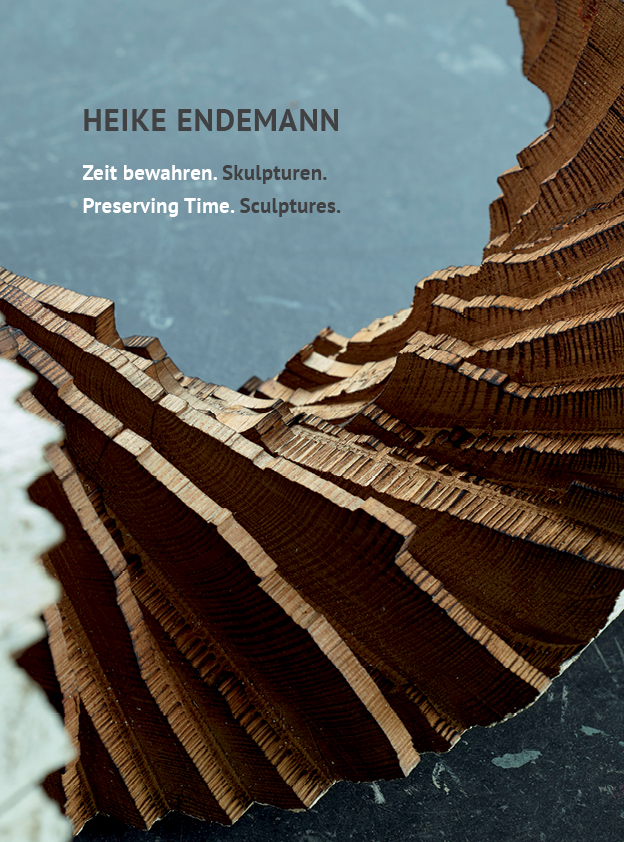 Heike Endemann.
Zeit bewahren. Skulpturen /
Preserving Time. Sculptures.
2017. 72 pages, 64 pictures.
Preface Dr. Antje Lechleiter, Intorduction Dr. Albert Kümmel-Schnur.
KaTiKi Verlag, ISBN 978-3-939877-20-2.
---