September 4 until November 15, 2020
On show: Johannes Dörflinger, Heike Endemann, Otto Adam, Hans Breinlinger, Elsbeth Juda
Opening: Friday, September 4, 6.30 pm
Gallery KunstGrenze
Kreuzlinger Str. 56
78462 Konstanz, Germany
www.doerflingerstiftung.org
Open: Friday 2 – 6 pm, Saturday 11 am – 3 pm.
---
July 9 until August 22. mianki.Gallery, Berlin, Germany
On show: Marc Dittrich, Heike Endemann, Silke Katharina Hahn, HALFA, Tina Heuter, Claudia Kallscheuer, Jakob Kupfer, Katharina Schnitzler, Michael Schuster, Constanze Vogt
Opening: Thursday, July 9, 7 pm – until Friday, July 10, 7 pm. 24 hours for a different kind of opening. Use the night!
mianki.Gallery
Kalckreuthstr. 15
10777 Berlin, Germany
www.mianki.com
Open: Tuesday through Friday, 2 – 6 pm, Saturday 11 am – 4 pm.
Download PDF.
---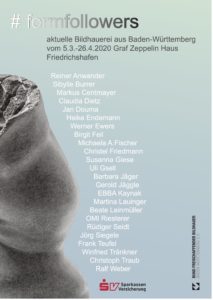 Due to the pandemic, the show has been closed. Please check here in the middle of April, whether it will reopen.
05.03. – 26.04.2020
Opening: 05.03., 2 pm
Rainer Anwander, Sibylle Burrer, Markus Centmayer, Claudia Dietz, Jan Douma, Heike Endemann, Werner Ewers, Birgit Feil, Christel Friedmann, Susanna Giese, Ulli Gsell, Barbara Jäger, Gerold Jäggle, EBBA Kaynak, Martina Lauinger, Beate Leinmüller, Birgit Rehfeldt, OMI Riesterer, Jörg Siegele, Frank Teufel, Winfried Tränkner, Christoph Traub, Rüdiger Seidt, Ralf Weber
Location:
Graf-Zeppelin-Haus
, Olgastraße 20, 88035 Friedrichshafen, Germany
Open: Mon & Fri 2-6 pm; Tue and Tau 10 am – 1 pm and 2-4 pm
---
Due to the pandemic, this show will most likely be postponed until 2022. Please check for an update early 2022.
The participants of the sculpture symposia 2015, 2017 and 2019 are returning to Lake Constance.
Claudia Dietz, Heike Endemann, Michaela Fischer, Susanna Giese, Martina Lauinger, Birgit Rehfeldt, Ulrich Sälzle, Michael Schützenberger, Frank Teufel, Christoph Traub, Daniel Zanca
---
Until April 2020
Sculpture Park, Schlossstrasse. 51061 Cologne, Germany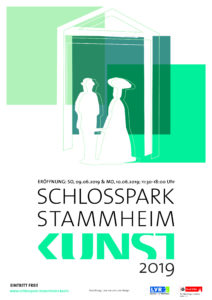 ---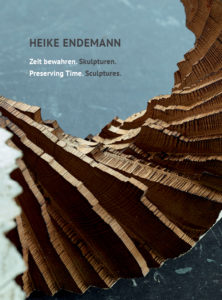 Heike Endemann.
Zeit bewahren. Skulpturen /
Preserving Time. Sculptures.
2017. 72 pages, 64 pictures.
Preface Dr. Antje Lechleiter, Intorduction Dr. Albert Kümmel-Schnur.
KaTiKi Verlag, ISBN 978-3-939877-20-2.
---